1. What is Cloud SCADA platform?
Cloud SCADA is an IoT platform that can realize terminal equipment data collection, real-time control, alarm push, group management, configuration design and other functions. With this platform, users can monitor terminal equipment more conveniently.
2. How to access?
Asean URL: http://asean.v-box.net/web/htmlnew/user/login.html
Asean account: weconuser
password: 123123
EU URL: http://eu.v-box.net/web/htmlnew/user/login.html
EU account: weconuser
password: weconuser123
Note1: users can edit Cloud SCADA project freely, and the modified results will not be saved.
Note2: users can enter the Cloud SCADA page by clicking the following positions: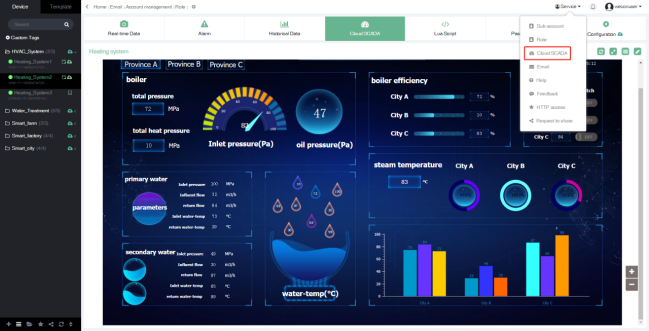 3. Industry classification
There are 20 Cloud SCADA projects created in demo account, including HVAC system, water treatment system, smart farm, smart factory and smart city.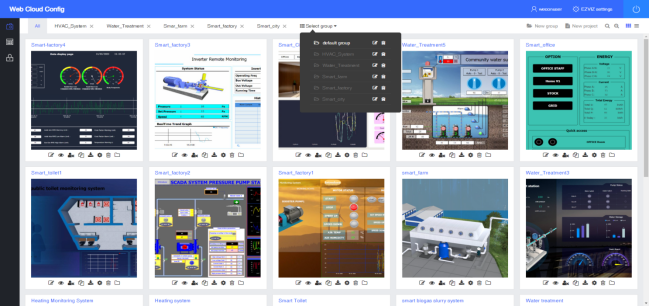 4.Part of the project introduction
4.1 Heating Monitoring System
Collect the analog signals of the temperature, pressure and flow rate of the outlet water of the heat exchanger, and use PID to control the valve diameter of the heat exchanger and the rotation speed of the circulating pump to achieve the purpose of automatic temperature adjustment.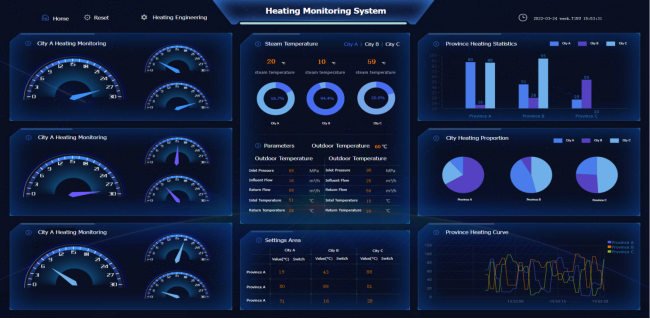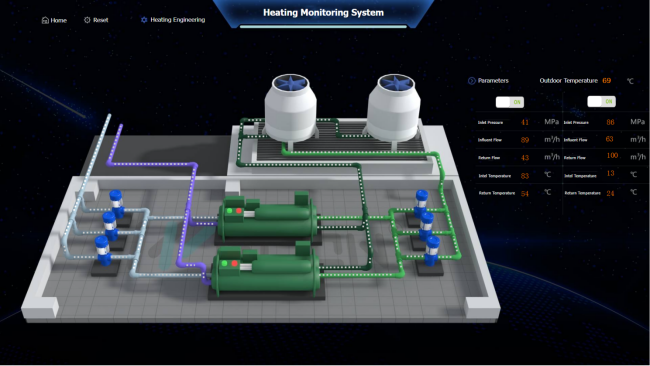 4.2 Water Treatment System
Industry introduction: water treatment system.Mainly to improve waterquality, to meet certain water quality standards, such as drinking water, industrial wastewater discharge.In order to ensure the stable operation of the water treatment system, it is necessary to monitor the water pressure and water level, and adjust the appropriate water pressure and water level by remote control of the pumpspeed.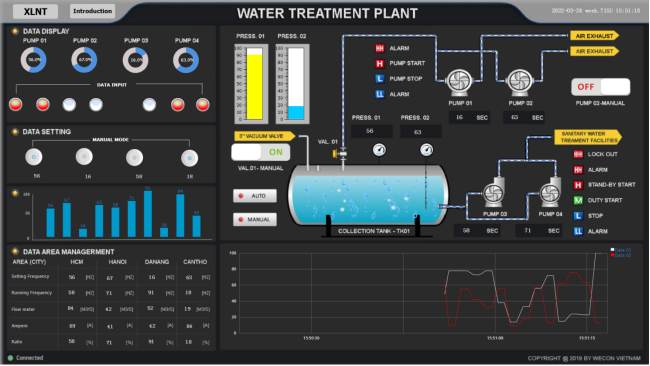 4.3 Smart City Monitoring
The multi-functional city monitoring system can be applied to multiple scenarios such as HVAC, factory, and pump station monitoring. Monitor and control common industrial parameters such as voltage, current, power, frequency, temperature, liquid level, etc.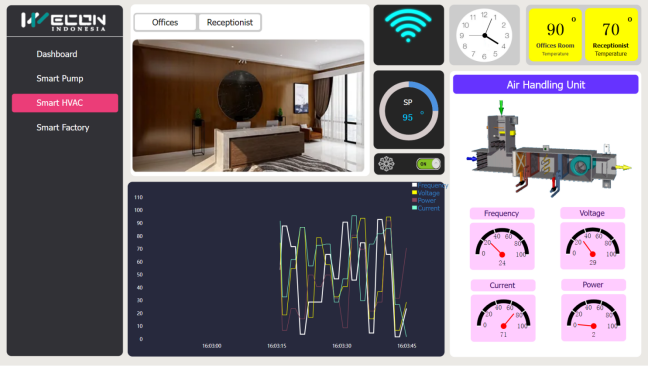 4.4 Smart Building Monitoring
It is used in community management to monitor various facilities in the community such as elevator equipment, lighting system, parking lot, fire fighting equipment, etc. In the event of an abnormality in the equipment, such as elevator damage, insufficient fire water, etc., an alarm prompt is sent to the manager.